PEPPER KEEN

 Selected Projects
 More Info
 Get In Touch



SELECTED PROJECTS

BOILER ROOM X SUGAR MOUNTAIN - Melbourne. 2019
Project: Live Broadcast Event
Credit: Creative Director / Curator


more..

Sugar Mountain and Boiler Room are joining forces once again to deliver a mouth-watering special event in Melbourne this spring.

Taking place on Saturday 26 October within the Melbourne Arts Precinct, the single-stage event will bring SM's infamous 360-degree Boiler Room stage back to life.
The all-day extravaganza will broadcast every moment live across the globe.



Boilerroom.tv



---
VIA SÃO PAULO
Project: Stage Curation [Live Performance]
Premiere: DARK MOFO, Hobart. 2019 *Project to continue in other forms & regions
Client: DARK MOFO + Red Bull Music Australia
Credit: Creative Director / Curator / Producer
more..

Art has always played a vital role in breaking new ground, not just in creative realms but socio-political movements too. Rising from the underground electronic music scenes of Brazil, VIA SÃO PAULO, introduces you to some of the most potent voices at the forefront of this expression.
Touching down in Hobart, VIA SÃO PAULO's initial live iteration took place at the iconic and often wildly confronting Australian festival, DARK MOFO.

Featuring Brazilian DJ/Producer BADSISTA, who made an appearance on Kelela's new remix album, and wowed audiences with her recent Boiler Room debut; Mamba Negra co-founder, and DJ stand-out CASHU, who has been tipped by FADER as one of the 'Top 25 Global Artists You Should Know'; and TETO PRETO, a live act fiercely merging political activism and performance art. Breaking boundaries in their own communities back home, this line-up of transgressive artists has shaken Australia's southern shoreline! A highlight of the festival for many.
1 / 13
Orchestrated by artist and curator Pepper Keen, and presented by Red Bull Australia, VIA SÃO PAULO aims to facilitate a platform for conversation and introduction, so that artistic exchange and awareness may arise. A project created with the intention to dissolve boundaries and open mutual pathways within a global creative scene.

"Before the project took shape, Keen visited São Paulo on a number of occasions, purely with research in mind, taking time to connect with the culture and understand the context from which it was born. This was during a time of political heat, prior to the Presidential campaign, when the murder of Elected Politician and Human Rights Defender Marielle Franco floored an entire country. An unthinkable tragedy that led to an uprising of honest and assertive voices standing up and fighting against systems and oppression.
Brazil's art scene reacted with music and movements in their own communities, coming at it from an angle of hope and a strong vision for change. They were speaking to the realities and nuances of their experiences and doing it in a way that lit a candle in the face of their oppressors. Fearless and uncompromising, their music and performances were more of a demand than a plea for action. These artists sent quakes through their hometown, creating a lot of noise, as a way of carrying on the legacy of their peers, and fallen heroes. Their art became a way of immortalising the essence of those who could not speak, and allowing the conversation about female representation and sexual/gender freedom to live on."
- Shannon May Powell for Red Bull Music's 'The Note'

From the depths of Brazil, where non-conformity can be life-threatening, art is transcending barriers. The world is becoming more interconnected, more fluid and less afraid. VIA SÃO PAULO is just the beginning of what will be an ongoing exchange and show of solidarity between the creative scenes of Australia and Brazil.



Continuing on from it's explosive entry, VIA SÃO PAULO now offers us the option to delve deeper into this incredibly powerful creative community, by way of a podcast series.
Tune in, by way of Melbourne online radio platform SKYLAB. [Releasing October 2019]
PRESS
1 / 2
Viaplanetearth.com

---

ASICS X LOLLAPALOOZA - Chicago. 2018

Project: Brand Activation
Client: ASICS + United Entertainment Group
Credit: Creative Director

more..

Teaming with global sportswear label ASICS, and entertainment, sports, and lifestyle agency, United Entertainment Group, Keen was invited to conceptualise and deliver an interactive onsite activation focussed on group movement, at Chicago's prestigious LOLLAPALOOZA festival.

The activation offered a platform for self expression, encouraging audience members to take centre stage, with their own chosen form of movement.

An interactive, motion-responsive, LED flooring accentuated each individual slide, step, and stride.
The faster the accumulative movement, the faster and stronger the response within the animations below the feet of festival goers.
As participants commune and collectively interact through motion, colours warm, and speed of line and form increase.

An additional element of gamification and product gifting was involved. Whether moving as one, or moving as many, the greater the amount of overall steps made triggered the release of surprise gifts for all on the floor.


1 / 7
Asics.com
Uegworldwide.com


---


SUGAR MOUNTAIN - Melbourne. 2018
Project: Music + Arts Festival
Credit: Creative Director / Curator


more..


A.B.Original [AUS] • Actress [UK] • Ara Koufax [AUS] • Beaches [AUS] • Body Type [AUS]
Cut Copy [AUS] • Dan Shake [UK] • Eclair Fifi [UK] • Fantastic Man [AUS] • Gerd Janson [GER]

Honey Dijon [USA] • Jamila Woods [USA] • Joey Bada$$ [USA] • Kardajala Kirridarra [AUS]
Laurel Halo [USA] • Love Deluxe [AUS] • Project Pablo [CAN] • Sevdaliza [NED]
Shanti Celeste [UK] • Stella Donnelly [AUS]

1 / 30


Staying true to the vision that shaped the festival's early formative years, SM 2018 brought together a multitude of artists and mediums, featuring a selection of unique collaborative projects, and performances -



Amrita Hepi x Pasefika Victoria Choir [AUS]
Hiroyasu Tsuri [JPN] x Jun Inoue [JPN]
Justin Shoulder x CORIN x Tristan Jalleh [AUS]
Marcus Whale x Athena Thebus [AUS]
VIA ALICE feat. Waangenga Blanco [AUS] x Khalif Diouf [USA]



VIA ALICE - Featuring dancer/choreographer Waangenga Blanco (Bangarra Dance Theatre), and New York artist/producer/performer Khalif Diouf (otherwise known as Le1f) - A moving meeting of two worlds, part virtual reality film, part live audio/dance performance. 

Dancer and choreographer Amrita Hepi teamed up with Pasefika Victoria Choir to deliver a contemporary Waiata, celebrating cultural resistance. 

Performance, sculpture, video and production genius Justin Shoulder met with classically trained electronic artist CORIN, and digital video artist Tristan Jalleh (who has created videos for the likes of SIA, Oscar Key Sung, and more) in a horror-filled, live performance.

Painter/sculptor/artist Hiroyasu Tsuri, aka TWOONE [JPN] joined artist, friend and collaborator Jun Inoue [JPN] in a physically performative artistic exchange.
First appearing as part of the opening act of Sugar Mountain 2011, songwriter Marcus Whale (also of Collarbones) returned with new music, a collection of live drummers and brass players, and went head-to-head with the multi-disciplinary artist and rising talent Athena Thebus in an awe-inspiring, collaborative performance, entitled LUCIFER II.




IDENTITY


VISIT - SM x BOILER ROOM VIDEO ARCHIVE



Sugarmountainfestival.com


---

VIA ALICE Feat. Waangenga Blanco x
Khalif Diouf
Project: 360° Virtual Reality Film [+ Live Performance]
Premiere: Red Bull Music Academy, Sydney. 2017
Client: Red Bull Music Academy
Credit: Director / Producer
more..

VIA ALICE is an immersive virtual reality film that invites audiences to experience the strength and diversity of contemporary Indigenous Australian knowledges, cultures, and identities.

Join American artist, producer, and dancer Khalif Diouf (Le1f); alongside Indigenous Australian dancer, choreographer Waangenga Blanco (Bangarra Dance Theatre), as they take us on a surreal journey across countries and cultures from Mparntwe (Alice Springs) Arrernte country, Gadigal land (Redfern) through The Central Desert, Marlinja, and onward to the northern reaches of the Cape York Peninsula.

Born in Manhattan, New York, Khalif studied ballet and modern dance, attended the Concord Academy, and earned his degree in Choreography from Wesleyan University before returning to the city to begin his rap career.
Arriving on Australian soil sees Khalif team with the charismatic Waangenga Blanco, a descendant of the Meriam people and of the pajinka Wik, Cape York. Waangenga studied at the NAISDA Dance College, and is a lead male dancer of the widely acclaimed Bangarra Dance Theatre, an Aboriginal and Torres Strait Islander organisation, and one of Australia's leading performing arts companies.

Armed with their incredibly diverse backgrounds in dance and performance, knowledge passed down from community elders, and their own unique methods of storytelling, Waangenga and Khalif take us on a stunning journey to deliver an insight into land and culture, whilst ultimately, through artistic collaboration, explore the meeting points between storytelling and dance.

VIA ALICE is accompanied by an original score composed by Daniel Stricker (Midnight Juggernauts) and John Carroll Kirby (Solange, Sebastian Tellier), featuring new work by Khalif Diouf (Le1f), and Kardajala Kirridarra members - Eleanor Nalyirrima Dixon and (RBMA Alumni producer) Beatrice.



Directed by multi-disciplinary artist Pepper Keen, the story of VIA ALICE stands strong with the support of it's cast, their guidance and knowledge shared. Including actor, and Dharug songman Richard Nambrimbrii Green ('Snowtown', 'Boxing Day'), as well as members of the phenomenal Kardajala Kirridarra, (2017 'NT Song of the Year Award' winners) Eleanor Nalyirrima Dixon and Janey Namija Dixon.

[Online Release: TBA]


LIVE PERFORMANCE

1 / 10
On very special occasions the 25minute virtual reality film is followed by a 20min live sound + dance performance, involving the film's collaborating stars, and those featured on the soundtrack. Sessions cater for an intimate audience of 30, with performances choreographed and composed to be unique to an event. No two identical.

The premiere viewings and live sound + dance performances of VIA ALICE took place at Red Bull Music Academy Weekender Sydney, September 2017.


PRESS
1 / 6
ACCLAIM

"The experience is a culmination of immeasurable hours meticulously collaborating and planning.
It is a testament to what can be created when individuals from various cultures approach art with mutual respect and courage. A film that is overwhelmingly evocative" [ . . . ]

- Article by Guest Editor Roj Amedi. Behind-The-Scenes Photography by Timothy Hillier.
SYDNEY MORNING HERALD

DANCE YEAR IN REVIEW. SURPRISE PACKET - VIA ALICE.
"There were some clues about VIA ALICE, but nothing that prepared me for a performance that brought together past and present, old and new ways of living, and ancient and modern methods of communicating. In an unrenovated corner of Carriageworks, Bangarra dancer Waangenga Blanco and American performer Khalif Diouf (Le1f) led audiences on a journey from the streets of New York to achingly beautiful expanses of central Australia. We sat on tree stumps remade to allow us to swivel so we could take in the full extent of the virtual reality vision brought to us through the goggles provided. We swooped around tall buildings like birds and swung low among the sparks of a desert fire. We watched a man in a dress struggling up a sand dune in high heels and followed a group of Aboriginal people introducing us to their country. The two dancers were part of that, but their most important contributions came as live performers on the patch of red dirt around which we sat. Each drew on his cultural background, past and present, in solos and a meeting point that brought them together. Unforgettable." [ . . . ]
- Article by Australian Dance Critic Jill Sykes. Photography by James Tolich.
"Unforgettable" ★ ★ ★ ★
- Sydney Morning Herald.



Viaplanetearth.com
---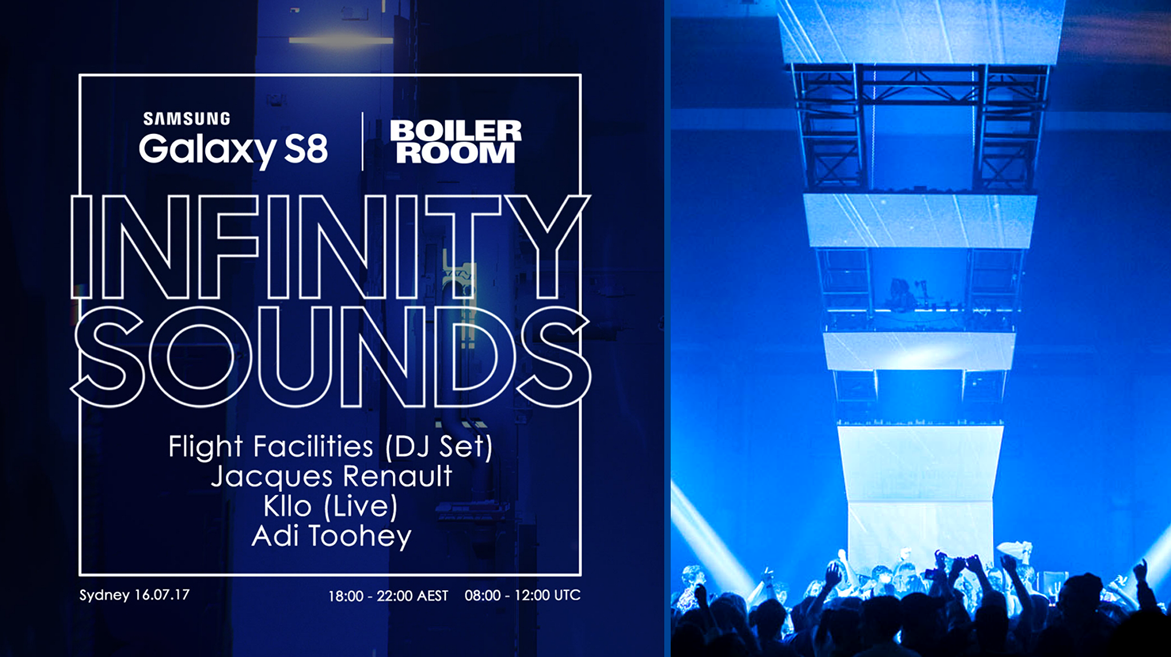 INFINITY SOUNDS. Samsung x Boiler Room Project: Global-Facing Product Launch + Live Broadcast Event. Sydney. 2017 Client: Samsung + Boiler Room
Credit: Creative Director



more..

To coincide with the release of Samsung's Galaxy S8 handset, Samsung Australia and Boiler Room unite to deliver 'Infinity Sounds'. An immersive, audio-visual show that marks the first Boiler Room event to be captured exclusively through the lens of a smartphone.



Broadcast internationally, live from Sydney's Carriage Works, by way of the Boiler Room online platform, the event provided an up-close and personal evening with New York's Jacques Renault, alongside Australian artists Flight Facilities, Adi Toohey, and Kllo.

Responsible for the boundary-pushing visuals behind electronic music pioneers Warp Records and
the likes of Hudson Mohawke, Kelela, Night Slugs, Fade to Mind, and more – Melbourne based digital artists Nic Hamilton and Dave Mackenzie delivered the evening's visuals. Complementing the Samsung Galaxy S8's edge-to-edge infinity display, the duo created four unique and immersive CG environments with infinite horizons. The environments were constructed through generative visuals; never ending, infinite, and responsive to the music.

Boilerroom.tv
---

SUGAR MOUNTAIN - Melbourne. 2017
Project: Music + Art Festival
Credit: Creative Director / Curator


more..
ALTA [AUS] • The Avalanches [AUS] • Baba Stiltz [SWE] • The Belligerents [AUS]
Beppe Loda [IT] • Big Scary [AUS] • Black Cab [AUS] • CC:DISCO! [AUS] • Daydreams [AUS]
Dro Carey [AUS] • HABITS [AUS] • Jaala [AUS] • Jack River [AUS] • Jesse Lanza [CAN]
Kaitlyn Aurelia Smith [USA] • Kelsey Lu [USA] • Kornél Kovács [SWE] • Kučka [AUS]
Little Simz [UK] • Methyl Ethel [AUS] • Mood II Swing [USA] • Moses Sumney [USA]
MY DISCO [AUS] • Palms Trax [UK] • Pantha Du Prince [DE] • Rolling Blackouts CF [AUS]
Slum Sociable [AUS] • Spank Rock [USA] • Sui Zhen [AUS] • Suzanne Ciani [USA]
Tornado Wallace [AUS] • Weyes Blood [USA] • Young Tapz [NZ]

Caleb Shea [AUS] • Elliott Routledge [AUS] • Karan Singh [JPN] • MOMO [USA]
Myriam Bleau [CAN] • Robyn Moody x Caroline Polachek [USA] • Supergroup London [UK]

SENSORY Feat. Daniel Arsham x SURVIVE x Pete Gunn
1 / 44
IDENTITY
48 STRING LASER HARP. Robyn Moody x Caroline Polachek Project: Sound-Responsive Installation
Credit: Creative Director

more..

In 2017, Sugar Mountain audience members were given the chance to pluck and play audio-responsive strings of light.

Conceived by director Pepper Keen, and programmed by Canadian tech-wizz Robyn Moody,
each of the 48 beams aligned with a specific sound or pitch of vocal provided by the incredible Caroline Polachek (Chairlift, Ramona Lisa, & more). This personalised interactivity allowed for audiences to create everything from a beautifully layered piece of music, to a chaotic orchestra noise.
---
SENSORY. Daniel Arsham x Pete Gunn x Survive Project: An Immersive Restaurant Experiment
Credit: Creative Director / Producer



more..

Sugar Mountain curators Pepper Keen and Brett Louis pushed the boundaries with SENSORY, the sell-out success, 'world first', on-site dining concept at the Sugar Mountain 2016, and then went one step further in 2017.

"An immersive restaurant experiment", SENSORY is a collaboration  between Sugar Mountain and three international icons of taste, sight and sound.
Working with international collaborators; New York based contemporary artist Daniel Arsham [USA], Texan composers SURVIVE ('Stranger Things' soundtrack) [USA], and award winning chef Pete Gunn [AUS]; Sensory delivered a true artistic representation of the core concept with abstract and performative elements.






Throughout the dining set menu, guests are treated to a tactile and interactive environment where all senses are stimulated through a 60-minute narrative.
An alternate reality where artists play with the audience's perception and understanding of the world around them, creating a visceral and unique dining experience unlike any other.

(..yes, those are night-vision goggles!)



1 / 5
PRESS

"We've reached peak food. Also peak music festival. But audio-art-food collaborations like SENSORY are showing that we can still punch a hole through the known universe and discover something interesting, and delicious."
- Gemima Cody, The Age Good Food


"It was weird, but that's the point! .. SENSORY is the pinnacle of risk taking."
- Broadsheet


---
V MOVEMENT. Augmented Reality Stage Environment Project: Brand Activation + Live Event
Client: V Energy Drink
Credit: Creative Director
more..
In an era boasting vast technological triumphs, and a global society growing ever-so connected, we roam into the future with our heads down, appearing to have logged-out of our natural environment, and a great deal of our day-to-day interpersonal interactions, IRL.
Noting this peculiar phenomenon, Keen chose to bring method to the madness, by inviting attendees to warp their festival experience through means of Augmented Reality.
Ultimately aiming to raise both vision & handsets to each on-stage spectacle.

At Sugar Mountain 2017, a static, illustrated, stage facade, and spatial artworks by Tokyo-based Australian artist Karan Singh, could be animated via the festival app.
This provoked patrons to interact with their surroundings, and bring further movement to the live performance arena.
SUGAR MOUNTAIN - Melbourne. 2016
Project: Music + Art Festival
Credit: Creative Director / Curator

more..
Alpine [AUS] • City Calm Down [AUS] • Courtney Barnett [AUS] • Dam-Funk [USA]
Dirty Three [AUS] • Empress Of [USA] • Harvey Sutherland & Bermuda [AUS]
Hot Chip [UK] • Jnett [AUS] • Julio Bashmore [USA] • Kate Miller [AUS]
Kate Tempest [UK] • Kelela [USA] • Laila Sakini [AUS] • Le1f [USA] • Pearls [AUS]
Research & Development [AUS] • Roland Tings [AUS] • Royal Headache [AUS]
Sampa The Great [AUS] • Tim Sweeney [USA] • Tom Trago [USA]
Total Giovanni [AUS] • Viet Cong [USA]

Daniel Askill [AUS] • Nic Hamilton [AUS] • NONOTAK [JPN]
Prue Stent x Honey Long x Clare Longley [AUS]
Sibling [AUS] • Yahna Fookes x Martha Zakarya [AUS]

SENSORY Feat. Cut Copy x Bomba x Tin & Ed

1 / 38
IDENTITYFESTIVAL NRMAL - Mexico City. 2015
Project: Music Festival
Client: Nrmal
Credit: Guest Curator
Australian Acts: HTRK . Kirin J Callinan
VAGABOND : Ariel Pink
Project: Short Film
Release: Pitchfork TV. 2015
Credit: Producer
Pitchfork.com


TERRIBLE LOVE : Kirin J Callinan
Project: Short Film
Release: Rage, ABC TV. 2015
Credit: Writer / Director / Producer
Awards: Rage 'Indie Clip Of The Week'

more..

A short film made for Sugar Mountain, to coincide with an exclusive, loveless - fueled, live performance of the same name, starring the enigmatic Kirin J Callinan.


LIVE PERFORMANCE
1 / 9


In partnership with LA-via-NYC label Terrible Records; Sugar Mountain played host to an exclusive live performance, entitled TERRIBLE LOVE. Created by Callinan & Director Pepper Keen, TERRIBLE LOVE featured a string of un-announced, surprise duets. By way of Skype, collaborators phoned-in from around the globe to perform their favourite covers & love-ballads alongside Callinan & band.

Dialing direct from NYC, Dev Hynes (aka. Blood Orange) joined Callinan to perfom Michael Jackson's "Black or White". Dressed in silk pyjamas, and phoning-in from his NZ home-studio, Neil Finn brought the house to tears with a rendition of his very own Crowded House classic, "Don't Dream It's Over". Featuring spicey cameos by son, Liam. Appearing to hide away in the background, nude with lampshade on head. Alex Cameron called from what appeared to be a backstage dressing room, enticing Callinan to join him to perform their (then to-be) hit single "Big Enough". Live from Sydney, Jack Ladder crooned & swooned with Callinan on the Willie Nelson & Julio Iglesias track, "To All The Girls I've Loved Before". Riding the line between endeering, and confronting. A performance in true Callinan fashion. A remarkably odd exhibit of the faults and occasional clumbsy triumphs of masculinity. Finally, diving right over the edge that they had skillfully walked prior; From mid-tour, somewhere in Europe, Jay Watson (Pond, Tame Impala) was joined on screen by Mac Demarco's testicles, wishing us and our loved ones a "terrible evening(!)"
 DOWNLOAD WALLPAPER - '#TERRIBLELOVE'
---
SUGAR MOUNTAIN - Melbourne. 2015
Project: Music + Art Festival
Credit: Creative Director / Curator

more..
Anthony Naples [USA] • Ariel Pink [USA] • Banoffee [AUS] • Bo Ningen [JPN]
Body/Head (Kim Gordon + Bill Nace) [USA] • Chela [AUS] • Dan Deacon [USA]
Dexter [AUS] • Horse Meat Disco [USA] • How To Dress Well [USA]
King Gizard & The Lizard Wizard [AUS] • LA Pocock [AUS] • Midnight Juggernauts [AUS]
NAS performs Illmatic [USA] • NO ZU + Sal P (Liquid Liquid) [AUS] • Noise In My Head [AUS]
ODESZA [USA] • Oscar Key Sung x Cassisus Select [AUS] • Rat & CO [AUS]
Slum Sociable [AUS] • Soul Clap [USA] • SWANS [USA]
TERRIBLE LOVE Feat. Kirin J Callinan [AUS]
The 2 Bears [UK] • Twerps [AUS]

Abby Portner [USA] • Ash Keating [AUS] • Cara Stricker x John Carroll Kirby [AUS]
Confetti System [USA] • Cornelius Brown [AUS] • Ghostpatrol [AUS] • Johann Rashid [AUS]
Keith Deverell [AUS] • Leif Podhajsky[AUS] x Hisham Bharoocha [USA] • NONOTAK [JPN]
Poppy Lane [AUS] • Robin Fox [AUS] • Sean Morris [AUS]





Sugarmountainfestival.com
1 / 17
FESTIVAL NRMAL - Mexico City. 2014
Project: Music Festival
Client: Nrmal
Credit: Guest Curator
Australian Acts: NO ZU . Young Magic . Kirin J Callinan
SUGAR MOUNTAIN - Melbourne. 2011 - 2013
Project: Music + Art Festival
Credit: Creative Director / Curator
more..
Sugarmountainfestival.com
---
INFORMATION

Pepper Keen [also known as Pete Keen] is a multi-disciplinary Artist / Creative Director exploring the meeting points between music, art, technology, and individuals.

Founding member of Melbourne's SUGAR MOUNTAIN festival, Keen has played a pivotal role in shaping a unique voice for the boutique event since it's debut in 2011.

The driving force behind projects such as the immersive virtual reality film -meets- live sound & dance performance VIA ALICE, and cross-cultural exchange platform VIA SÃO PAULO, Keen's portfolio is diverse and impressive. Previous clients include ASICS (New York), Lollapolooza (Chicago), Festival NRMAL (Mexico City), Boiler Room, Red Bull Music Academy, Samsung, and more.

Whether it be as artist, or in the directors seat, developing one-off collaborations, producing audience-interactive installations, or curating festivals here & abroad; Keen's work crosses multiple countries and art forms, bringing a uniquely Australian perspective to a global platform.
SPEAKING
[Recent : 2017 - 2019]


FLUVIAL, Argentina. 2017
SIM SÃO PAULO, Brazil. 2017
EN ORBITA, Chile. 2017
CHANGES, Melbourne. 2019
VIA MULATU ASTATKE + FRIENDS, Melbourne. 2019
PAST CLIENTS
[Recent : 2017 - 2019]
ASICS

BOILERROOM

CREATIVE VICTORIA

DARK MOFO
LOLLAPALOOZA
RED BULL MUSIC ACADEMY
SAMSUNG
SCHWEPPES - ALT
VICE